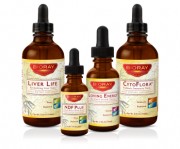 A spate of recent reports shows how excessive stress and adrenal energy depletion impacts health immunity in Americans. Many people are asking what they can do to support their system naturally. One manufacturer of plant based herbal detox products may have the solution we've been waiting for.
Laguna Hills, CA, January 21, 2015 (Newswire.com) - Bioray Inc, a manufacturer of safe and effective organic and wildcrafted liquid herbal tinctures has announced the creation of a new combination of BIORAY® products that naturally assists the body's ability to safely manage stress, replenish adrenal energy, support healthy gut function and remove environmental toxins.  Known as The Detox Quartet, the combination of products work synergistically to remove environmental toxins and support the organ systems that are negatively affected during times of heavy stress or fatigue.
"Excessive stress can have a profound impact on a healthy functioning body. 65% of Americans cite work as their top source of stress.  By introducing The Detox Quartet, Americans now have an affordable, all natural option to maintain healthy immunity, nourish their adrenals, balance the GI and  enhance the body's ability to detoxify environmental toxins - all factors that come into play with our modern lifestyle," said Bioray President and CEO Stephanie Ray. "Our recent intervention study shows The Detox Quartet provides a significant reduction of environmental toxins and improvement in symptoms within 6 weeks, even in very sensitive individuals. We are providing consumers with a significant cost savings as well as free shipping for this combination."
The Detox Quartet includes four of Bioray's products.  Loving Energy, a calming traditional Chinese tonic whose ingredients have been used for centuries to relieve stress and exhaustion as well as to support lung and adrenal function. Liver Life nourishes the liver, supporting the body's natural detox abilities, fatty acid metabolism and nutrient absorption while decreasing food sensitivities.  Cytoflora, a probiotic lysate to support the gastrointestinal tract, decreases leaky gut by 27% within 35 days. And finally, NDF Plus gently detoxifies heavy metals, chemicals, and other pesticides while balancing essential nutrients and supporting cellular energy.
"Loving Energy® may very well be the most underrated product on the market today for the relief of stress and regulation of energy, not to mention supporting a healthy histamine response.  Millions of Americans complain of fatigue, feeling anxious or unwell and having brain fog or other similar stress related issues. Traditional Chinese medicine has addressed stress related issues through plant and food based ingredients for centuries and with great success. Bioray makes these time honored formulations available to the public," said Ray.
For more information about The Detox Quartet and Bioray, the Natural Detox Company, please visit Bioray.com or call 888-635-9582.   
Share: