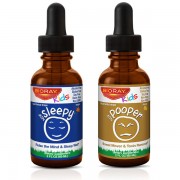 Bioray Inc, The Natural Detox Company, announced their plans to return to Natural Product Expo West 2016, at Booth #1215 at the Anaheim Convention Center March 11 through March 13, 2016. The company is expected to release exciting new additions to their BIORAY Kids product line, an alcohol-free version of BIORAY's therapeutic line product, Loving Energy and new combination, 3 in 1 products for adults targeted for retail markets.
Laguna Hills, CA, March 7, 2016 (Newswire.com) - ​​​​​​​​​Bioray Inc., a Laguna Hills based company known as a premier manufacturer of plant based herbal tinctures, has seen tremendous growth over the past 3 years through the success of BIORAY Kids line in conjunction with its therapeutic line, Largely buoyed by the interest and accolades garnered from customers, BIORAY Kids product line, NDF Calm, NDF Shine, NDF Focus and NDF Happy are now widely available through major retailers such as Sprouts Farmers Market and Whole Foods Market.  
"The public's awareness of natural ways to support a healthy body and mind, is at an all-time high and Bioray is proud to be on the forefront of this important trend. The incredible amount of positive feedback we receive from our customers is proof that BIORAY & BIORAY Kids formulas are giving families the relief they need from irritating symptoms related to inefficient organ function and environmental exposures." said Bioray Product Specialist Tami Wilken.
Popular BIORAY Kids Line Announces New Line Additions
The growth and popularity of the BIORAY Kids product line has been nothing short of remarkable given the products are now available coast to coast through Sprouts Markets, Whole Foods, and other natural grocers. Initially released at Expo West 2013, the BIORAY Kids products were one of the first line of alcohol-free herbal tinctures, designed specifically for children, that provide organ support while safely and effectively removing environmental toxins such as mercury, lead, arsenic and BPA. Interest has surged as parents have become more aware and familiar with these types of chemical and environmental hazards. The new products, NDF Sleepy and NDF Pooper, were developed due to parents expressing their child's needs.
Bioray Introduces Alcohol-Free Combination Retail Line for Adults
In addition to the expanded BiORAY Kids product line, Bioray introduces the BIORAY Adult line, a a new alcohol-free combination products for adults. This line includes Belly Mend, Liver Lover, Microbe Slayer, Mind Zeal, Primary Detox as well as an alcohol free version of Loving Energy will soon be available. These new product offerings have been widely anticipated by many health and wellness professionals who use and advocate the Bioray's product lines.
"Our customers are so amazing in sharing their daily struggles and experiences that we'd like to say thank you! It is due to your generosity to express your family's needs with our BIORAY team that Stephanie Ray decided to create two additional BIORAY Kids formulas and our BIORAY Adults, alcohol free combination line for retail as well." said Wilken.
Bioray's Hormonal Offerings Go Mainstream
Bioray also announced that some of the popular Bioray Therapeutic line of products aimed for hormonal support have drawn interest from major retailers and will be available in boxed form specifically geared for the retail sector. Red Rooster, Lady Passion, and For Your Flow products have been rebranded and set for release in an attractive boxed format. The boxes are popular in retail markets for providing additional product information. Interest in retail products for natural hormonal supports and libido enhancers have grown in recent years, and with the strength and familiarity of the Bioray brand becoming more prominent, the move into the retail market is expected to be yet another remarkable achievement into the success story that is Bioray.
For more information about plant based herbal tinctures for supporting health, vitality and natural detoxification products for children and adults please visit bioray.com, bioraykids.com or call 888-635-9582. Bioray will be at Booth #1215 in Exhibit Hall A at the Natural Products Expo West from March 11 to March 13, 2016.
Share: